Sponsors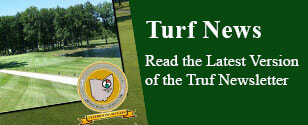 Tweets by @nogcsa
Become a Sponsor
NORTHERN OHIO GCSA'S INDUSTRY NEWS ADVERTISING CONTRACT

Northern Ohio TURF is your direct contact with hundreds of Northern Ohio superintendents and other professionals in the turfgrass industry. TURF is an award winning publication that has a circulation of over 500 copies per issue. It is mailed free of charge to all Northern Ohio GCSA members, non-member golf courses within a 100 mile radius, superintendents of parks and industries and many others interested in the turfgrass business.

Northern Ohio TURF is published nine times per year. Ad rates for CAMERA READY ARTWORK AND COPY are standardized and shown on the back. There are additional charges for non-camera ready ads, ads of poor clarity or ads that need to be altered due to wrong sizing. Please note the minimum extra charge on the second page. ALL ADS THAT HAVE NOT BEEN PAID FOR WILL BE DROPPED IN THE MARCH/APRIL ISSUE UNLESS OTHER ARRANGEMENTS HAVE BEEN MADE.

Northern Ohio TURF is one of your links to the turfgrass market in Northern Ohio. This magazine allows you to have direct contact with consumers who are definitely interested in your business. Through Northern Ohio TURF, you have the opportunity to market your business to over 300 consumers, nine times per year without ever leaving your office. That is 4,500 sales calls yearly! Your purchase of ad space in Northern Ohio TURF helps to show support of the turfgrass professionals in Northern Ohio.

Northern Ohio TURF is completely electronic!! Our readers and website visitors can now view the newsletter online. With this online version viewers can now click on your ad and be redirected to your website!! With a newsletter receiving over 7,500 visits per year what better way to advertise to your core market. IN 2023 WE ARE CONTINUING THE FREE EPUSHES WITH A FULL YEAR SUBSCRIPTION!

1/8 Page Ad - 1 Free E-Push
1/4 Page Ad - 2 Free E-Pushes
1/2 Page Ad - 3 Free E-Pushes
Full Page - 4 Free E-Pushes

ADS WILL BE ACCEPTED ONLY AFTER SIGNED CONTRACT AND PAYMENT HAS BEEN RECEIVED.
CLICK HERE to download an ADVERTISING CONTRACT
CLICK HERE to download a MEMBERSHIP WORKSHEET

Fields marked with * are required