Sponsors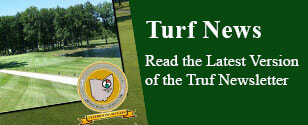 Tweets by @nogcsa
Benefits
Mission Statement
Promoting the profession of the golf course superintendent through education, camaraderie and cooperation among fellow members in Northern Ohio since 1923.

Focus of Association
Today's golf course superintendent must be a scientist, an economist, a business manager, a personnel manager, and more. It is a very challenging profession. To help meet this challenge, superintendents need a strong, professional association. Founded in the early 1923, the Northern Ohio GCSA was just a handful of individuals who met to exchange ideas. This small group has grown into an association with more than 300 members. A Board of Directors and Standing Committees direct the external and internal workings of the Association. We are affiliated with the Golf Course Superintendents Association of America (GCSAA) which serves superintendents internationally. Northern Ohio GCSA members are leading the way as Environmental Stewards to address such timely issues as water conservation, ground water protection, pesticide use and safety, and environmental protection.

Education
The Northern Ohio GCSA has meetings that include informative education speakers. Education topics range from technical turfgrass subjects to business management to personal self-improvement. The demands and technical aspects of the golf course superintendent's profession are changing rapidly. As a superintendent, continuing education is vital to your future success.

GCSAA Seminars
Each year the NOGCSA hosts a GCSAA seminar. These seminars are comprehensive in their coverage of technical and business subjects. Topics range from Renovation and Reconstruction to the Microbiology of Turf Soils to Managerial Productivity. All participants receive CEU credits upon the passing of a seminar test.

On the Web
Stay in touch with your fellow superintendents. By using this website, you can stay current on the happenings within the region and articles from the turf industry.

Employment
The NOGCSA offers help to those members who have lost their jobs or are looking for advancement through the local listing of available jobs on www.mvsupt.com and through its job referral service. An NOGCSA employment representative will update members who have lost their jobs with the first notice of available openings.

Updates from GCSAA
GCSAA update information is provided to the NOGCSA membership through www.mvsupt.com. Information about GCSAA's conference and show, annual election, and upcoming seminars in the region are also highlighted at NOGCSA meetings.

Camaraderie and Golf Events
Participating in the NOGCSA supports your profession on a local basis and provides an opportunity to make professional acquaintances in the local golf course industry. Golf outings organized by the NOGCSA provide more than an enjoyable release from the tensions of everyday work. Playing golf at local courses stimulates discussion and the sharing of ideas about golf course management techniques and golf course maintenance problem solving, and allows you to meet new people in the industry.