Sponsors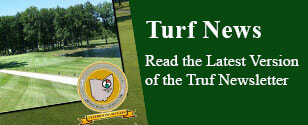 Tweets by @nogcsa
For golf courses, dealing with bad weather is the game within the game
By KEVIN KLEPS
4:30 am, February 23, 2014

When Mother Nature rains down on Northeast Ohio in the spring, summer and fall, and buries it with snow and ice in the winter, golf courses try everything and anything to get customers through the door.

Ultimately, though, there are only so many food and drink specials, golf course simulators, weddings and gimmicks such as comedy shows — yes, comedy shows — to offset the greens fees that never materialize on Mom's bad days.

"If you lose a day (because of weather), you're done," said David Kinnell, head pro at Pine Hills Golf Club in Hinckley. "There is no way you can make up for it."

In Northeast Ohio, courses lost plenty of days in 2013, according to an analysis by PGA PerformanceTrak, which calculates rounds and revenue data for the industry. The Northern Ohio section of the PGA reported a 6.2% drop in rounds played and an 11% plunge in days open in 2013 versus 2012. Nationwide, rounds played last year were down 4.8% and days open declined 6.9% from 2012.

One reason for the stark contrasts is the weather in 2012 was abnormally warm, and the elements last year were nowhere close to as bright as the pants golf pro Jimmy Hanlin wears on television.

But 2013 wasn't nearly as bad as the very rainy 2011, which Hanlin, director of golf at Little Mountain Country Club in Concord and StoneWater Golf Club in Highland Heights, refers to as "Armageddon."

"Everything seems great compared to that year," Hanlin said.

Great is, of course, a relative term, but local courses surveyed by Crain's said by keeping a tight grip on their expenses and exhausting every revenue outlet, they were able to keep their finances in line in 2013.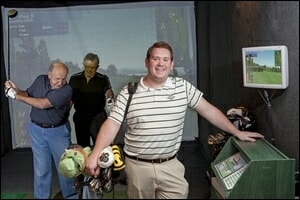 Simulating the real thing
Bunker Hill Golf Course in Medina has six simulators — a realistic form of indoor golf, if you will. Depending on the model, the high-tech gadgets that can simulate play on big-name courses such as Pebble Beach and Doral can cost as much as $90,000 each.

It's a cool way for a golfer suffering from cabin fever to get in a round at the course of his or her choosing. But for the host golf course, it's not a cure-all for the bad-weather blues.

"That is a good way for us to make up a little extra (money)," said Chase Pinchot, general manager at Bunker Hill, which stays in touch with customers all year long via email. "But in the same sense, we have six simulators and you could have 24 golfers (four on each simulator) in there from 9 in the morning to 9 at night, and that still isn't going to make up for a course full of people all day."

Kinnell said Pine Hills has discussed adding simulators "as a winter revenue source," but the cost — at $60,000 to $65,000 apiece for good simulators — might outweigh the benefits.

"If everyone starts doing it, it doesn't make much sense," Kinnell said.

Another consideration: Pine Hills would need to add on to its clubhouse to create space for the simulators, and Kinnell estimated that makeover would cost about $750,000, including the price of the simulators.

"You have to make enough room for it to be enjoyable," Kinnell said.

Whatever works
StoneWater, which went private in 2014, does "all kinds of stuff" to increase its revenue, Hanlin said.

Besides food and beverage specials, merchandise sales, live musical performances and even dance lessons, the well-regarded club has hosted comedy shows, including one on Feb. 1 that featured popular local comedian Chad Zumock.

"You try to get people to eat, drink and come to the pro shop," Hanlin said. "It's not always related to golf, but usually it is. Your core customer is the golfer."

Sean McHugh, director of golf operations for Cleveland Metroparks, said his group has tried something different — cross country skiing at the park system's golf courses.

"We rent out skis, which gave us a little (revenue) bump," McHugh said.

But the skiing also meant more labor costs, which eat up a large chunk of the profits, McHugh said.

Shale Creek Golf Club didn't turn its Medina course into a skiing attraction, but it did have a big, new draw — an 11,000-square-foot clubhouse that opened last May.

Shale Creek manager Scott Schreck said the course only had about a 2% dip in rounds played in 2013 — a figure he attributes to the new clubhouse helping to generate a booked calendar of golf outings and group events.

The public course is surrounded by 300 private lots, on which 240 houses have been built, Schreck said. Shale Creek has a pool and fitness center that is available only to residents.

"We're lucky in that situation," Schreck said. "We're more of a community than a golf course."

Fowler's Mill Golf Course in Chesterland had a similarly optimistic view of an otherwise gloomy 2013.

Course general manager Mike Mucciarone said rounds played were down 2% compared to 2012, but revenues rose, thanks in part to its banquet and wedding facility.

"We actually had a great year last year," Mucciarone said.

Tightening the belt
Several courses said they were able to keep their 2013 profits close to even with their 2012 totals by keeping their expenses to a minimum.

But when it rains, it often pours for workers who hoped to be needed on a particular day.

"You use every little measure you can to save a dollar here and there," said the Metroparks' McHugh. "We watch the weather. If the weather looks bad, we'll tell the starters and rangers not to come in. In a way, it's sad because you're telling someone not to come to work, but it's business, I guess."

Shale Creek's Schreck said trimming labor costs is the "No. 1" way for parent company Granite Golf Properties to counter poor weather.

"We have to manage that dollar very closely," he said. "It's difficult at times. We look to manage that labor dollar without giving up the service our customer has come to expect. It's not their fault that the weather is bad."

Ultimately, many course operators are left with hope — for brighter days. In some sense, it's their only hope.

"There really isn't much you can do," Hanlin said of bad weather. "You just try to have a better year the next year. People aren't coming to the golf course to eat and drink if it's raining. Those revenues are really tied into how many people are driven to the door."

This article orginally appeared on Crains Cleveland Business. You can access it by clicking on this link: http://www.crainscleveland.com/article/20140223/SUB1/302239992/0/SEARCH